Product Details
A solar powered LED flashing stop beacons – MX-WSS-701B from Max LED Display Technologies (M) Sdn Bhd enhances safety and security with its flashing LED lights. The sign can mount on to an existing sign post and is custom made to your specifications.

Application ideal for:
– Exit/Entrance of high speed way (ring road, diverging crossing)
– School gate, community gate, governmental agencies, store gate, street crossing
– Near of tunnel exit/entrance.
– Near of toll station exit/entrance.
– Crossing road, near of traffic signal place.
– The application above enough of sunshine

It may continue working around 15 days during cloudy or rainy day.

---
Product Specification
| | | | |
| --- | --- | --- | --- |
| Solar Panel: | DC 12V/5W | Working Temperature: | -25℃ ~ +65℃ |
| Li-Ion Battery Capacity: | 7.4V/7AH | Housing Material: | Aluminium |
| Viewing Angle: | 30° (Horizontal), 30° (Vertical) | Viewing Distance: | ≤1000 Meters |
| IP Grade: | IP54 | Product Warranty: | 2 Years |
---
Product Dimension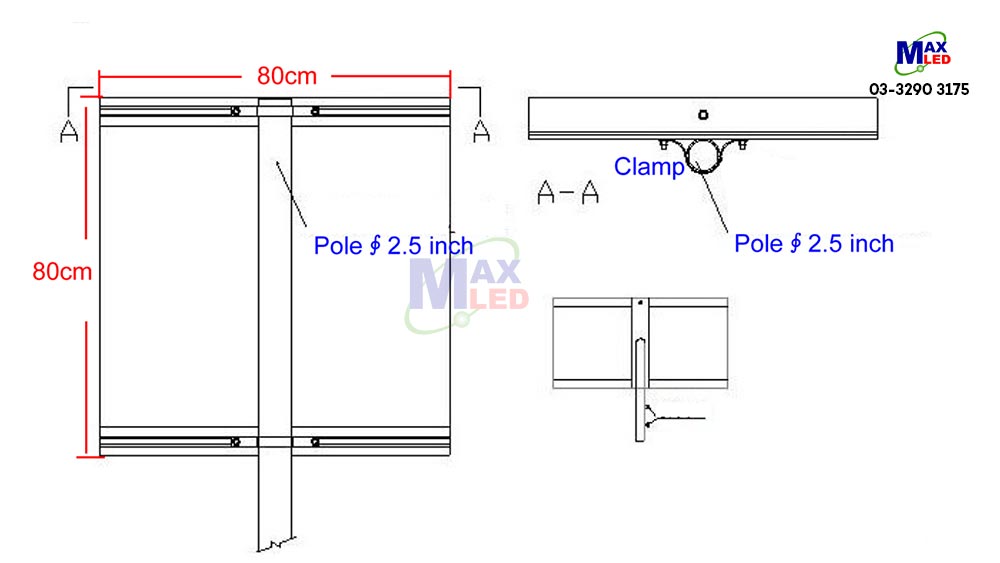 ---
Packing Info
| Packing Size (mm) | Quantity | Nett Weight | Gross Weight | Wrapper | Storage Size |
| --- | --- | --- | --- | --- | --- |
| 86 x 86 x 12 | 1 piece/Carton | 9.6 kg | 11.5 kg | K = K Carton | 0.0.89 m³ |
---
Packing List
| Sign Board | Solar Panel | Clamp 2.5 inch | M12x55 Screw, Stem and Nut | M12 Nut | Instruction Manual | Certificate |
| --- | --- | --- | --- | --- | --- | --- |
| 1 | 1 | 2 | 4 | 4 | 1 | 1 |
---
Download Catalogue
Catalogue Download (4MB)